Home Repairs Made Easy
Local service pros, confirmed fair pricing, guaranteed results.
One call starts it all
Castle provides a range of home repair services inside, outside, and around your home. All work is done by experienced and licensed service professionals.
Remodels, Electrical, Plumbing, and more!
Bath Remodel
Doors
Drywall
Electrical
Flooring
Garage Doors
Handyman Work
HVAC
Kitchen Remodel
Paint
Remodeling
Roofing
Windows
General Contractor
Plumbing
How Castle Works
Your personal Castle Expert handles all the details of the project for you. Watch our video to learn more about how easy home repair can be with Castle.
Call the Castle Experts to Schedule
The Castle Expert is your first contact and project manager for the repair process. They schedule the in-home assessment, answer questions, and find an experienced, licensed service provider with the right skills for your job.
Review and approve your estimate
Your estimate outlines the full scope of work in clear, easy-to-understand language and is reviewed for fair pricing. Once approved, we schedule a convenient time for the work to begin, and keep you updated on the process.
3-Year Warranty
All repairs are protected by our three-year workmanship warranty.
Read More
Verified fair market pricing
The Castle Experts use advanced estimating software and their own deep experience to independently verify that you always receive the fair market price for your work.
Our network
We are constantly adding to our network of highly qualified, licensed, and background-checked service providers.
Castle Experts
Your Castle Expert works with you throughout the entire process—ensuring you understand every step and are fully satisfied with the results.
Fair-price promise
Castle uses advanced estimating software and extensive experience to help ensure fair pricing for your project and zip code.
Online convenience
Your Castle digital dashboard lets your review estimates, choose options, track service progress, and pay, all from your personal device.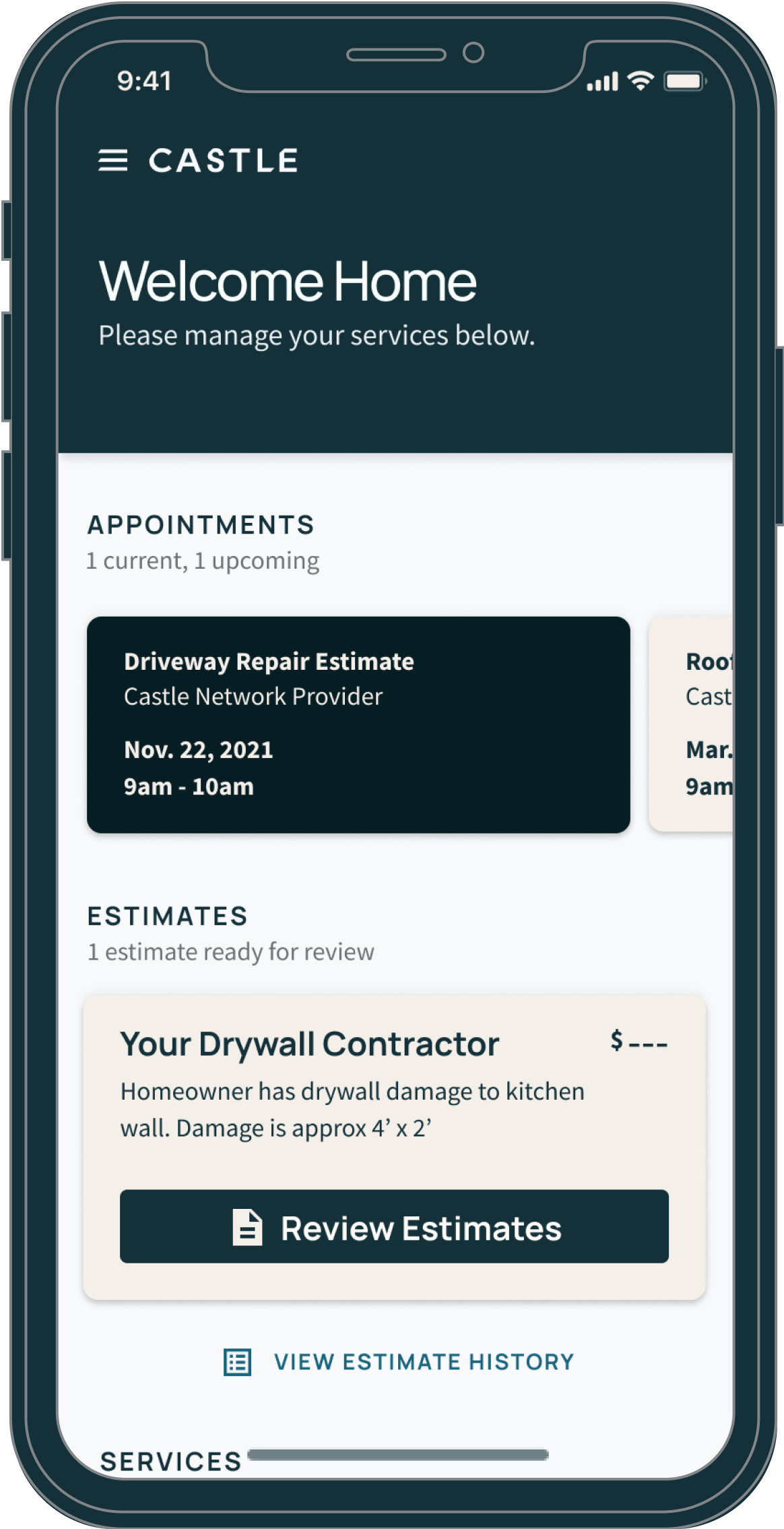 Let's Fix It All Together.
Meet Your Home Repair Team
You don't have to take on home repair challenges all by yourself.
Your Castle Expert
They guide you through your repair, select the right service provider for the job, check for a fair market price, and ensure the repair is completed to your satisfaction.
Your partner throughout the service process

Expert guidance on every part of the job

Schedules appointments, answers your questions
Service Provider network
The Castle network covers a wide range of home service needs with professional, highly skilled, and courteous providers.
Qualified and credentialed

Dozens of service categories, including general contracting

Reviewed by you after every service

Insured and background checked
Can I negotiate my estimate?
No. Castle verifies each estimate to save you the time and hassle of negotiating a fair price.
Do I have to pay an assessment fee?
Only if you decline your estimate or cancel the service. If you accept the estimate and get the work done through Castle, we waive this cost.
When do I pay for my service?
Castle requires a valid payment method on file before you can approve estimates or begin service. However, you don't pay for your service until after the work is completed and you are satisfied.
What payment methods do you accept?
Castle provides greater convenience and security with our online billing and payment platform. We accept Visa, MasterCard, American Express, Discover, and JCB credit and debit cards. Payments through PayPal are also supported, providing additional options, including installment payments, credit, and direct bank payments.
Can Castle service providers start the same day they provide an estimate?
For many small jobs, our service providers are often available to start as soon as you are ready.
What is the Castle website for?
Think of the Castle website as your digital repair "paperwork." It will keep you updated on appointment times, let you accept or decline estimates, and allow you to pay for your service.
Working during COVID-19
We are encouraging Castle Service Providers to follow the construction and home repair employee guidelines put forth by the Centers for Disease Control and Prevention as closely as possible. You can learn more about our COVID-19 response here.
What if I don't like my service provider?
If you are unhappy with your service provider for any reason, please call Castle at 1.888.812.2785. We would love to hear about your experience and will do our best to resolve your issue quickly. That said, we pride ourselves on our network of vetted service providers—chosen for their experience and exceptional customer service.
Do you have weekend service?
Castle does not currently offer weekend service.
What if I am unhappy with my service?
If you are unhappy with your service for any reason, please call Castle at 1.888.812.2785. We are always open to hear about your experience and will do our best to resolve your issue.
Who are the Castle Experts?
Our Castle Experts are experienced in the home repair industry and are knowledgeable about the technical aspects of maintenance and home repair. They guide you through the entire repair process using straightforward and understandable language.
What happens if a repair takes more than one day?
For repairs that last more than one day, you will schedule a follow up appointment with your service provider on the first day of your repair. You will receive a text confirming your next appointment, and it will also be displayed in the Castle website.
Is there a limit to how many times I can call Castle?
There is no limit to the number of times you can call Castle. In fact, we'd love to hear from you at any point in your repair journey! Call whenever you need something.
How does the three-year warranty work?
To learn more about your three-year workmanship warranty, call Castle at 1.888.812.2785. You will be connected to a Castle Expert who will ask you questions about the issue and initiate the warranty process. For Austin-area customers, please call 1.512.229.9300 with questions about your warranty. For Tampa-area customers, please call 1.813.519.4545 with questions about your warranty.
What areas does Castle serve?
Castle currently offers services in the Greater Columbus and the Greater Cleveland areas of Ohio. We will be expanding into other areas of the country very soon.